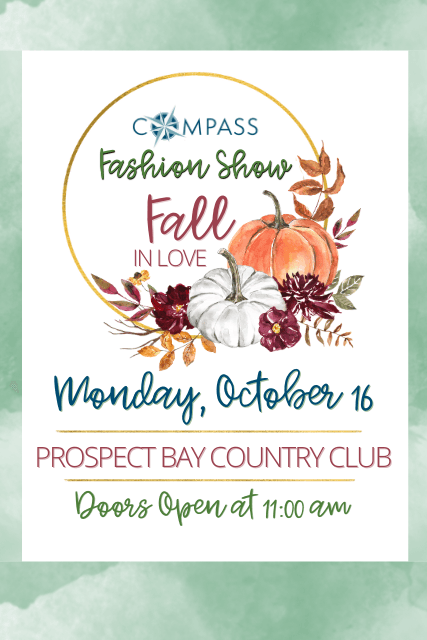 GRASONVILLE—The spotlight will shine on compassion and style as Compass and Compass Closet presents a remarkable Fashion Show in support of hospice care, grief support services, and supportive care throughout Caroline, Kent, and Queen Anne's counties. This exclusive event will take place on Monday, October 16th at Prospect Bay Country Club. Doors will open at 11:00am. This promises to be an enchanting afternoon filled with fashion, community, and a shared commitment to enhancing the lives of those in need of Compass' services.
Compass' Fashion Show aims to blend the world of fashion with a meaningful cause, offering attendees an extraordinary experience that combines artistry, philanthropy, and community. Guests will have the opportunity to experience and purchase items from the runway showcase. Compass Closet, Compass' upscale resale boutique located in Chester, has provided all the clothing and accessories for each model. At the event there will also be a curated boutique with items from Compass Closet to fit anyone's style.
As attendees immerse themselves in the world of fashion, they will also be contributing to a greater purpose. The afternoon will feature a luncheon, cash bar, boutique shopping as well as silent and live auction items. Proceeds from the event will directly benefit Compass, a local non-profit organization committed to providing comfort, dignity, and support to individuals and their families during life's most challenging moments.
This event encapsulates the essence of Compass and Compass Closet's values, uniting fashion enthusiasts, philanthropists, and community leaders to make a genuine difference in the lives of hospice patients and their families. In addition to the enthralling runway display, at the Fashion Show you'll have opportunities for networking, mingling while shopping for designer pieces, and connecting with like-minded individuals who share a passion for both style and social responsibility. The event promises a seamless fusion of elegance and empathy, leaving attendees inspired and motivated to give back to their community.
Tickets for the Fashion Show are available for $60 each. To purchase tickets please visit compassregionalhospice.org/compass-fashion-show or Compass' events page. All interested parties are encouraged to secure their seats early, as availability is limited. Or you can contact Shelly Baird at sbaird@compassregionalhospice.org or 443-262-4106.
There are sponsorship opportunities available for this event at varying levels. For more information on how you can support this event, please visit compassregionalhospice.org/compass-fashion-show or contact Shelly Baird at sbaird@compassregionalhospice.org or 443-262-4106.
Compass
Since 1985, Compass has been allowing patients to spend their final months the way they choose, guiding loved ones after a life-limiting diagnosis, and showing individuals healthy ways to manage their grief. Today, the organization is a regional provider of hospice care, supportive care, and grief services in Caroline, Kent, and Queen Anne's counties. Whether serving their patients in private residences, skilled nursing facilities, or Compass' residential center in Centreville, staff and volunteers are guided by their mission to ensure that individuals facing end of life can live out their days in a full and meaningful way.
Compass is a fully licensed, independent, community-based nonprofit organization certified by Medicare and the state of Maryland and accredited by the Joint Commission. It is affiliated with the National Hospice and Palliative Care Organization and the Hospice & Palliative Care Network of Maryland. For more information about Compass, call 443-262-4100 or visit compassregionalhospice.org.
Media Contact:
Lexy Mollica, Media and Communications Specialist
443-262-4100, ext. 177
lmollica@compassregionalhospice.org