Most people prefer to live their final months wherever they call home. This may not be possible when a patient lives alone, family members who have been providing care are no longer able to do so, or the patient experiences pain and symptoms that cannot be safely managed at home.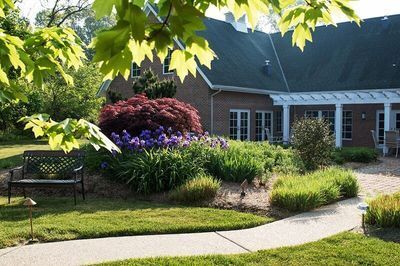 If remaining at home is no longer possible, Compass has a residential hospice care option. The ten-bed Barnette Center in Centreville provides a comfortable, home-like, and medically-supportive alternative. Our Barnette Center supports residents of Caroline, Kent, & Queen Anne's counties. A team of experienced and caring professionals provide patients with 24/7 care to support the patients' physical, emotional and spiritual needs.
The Hospice Center Team
Patients receive care twenty-four hours, seven days a week, by a team of experienced and caring hospice professionals who are specialized in symptom management and trained to support the patients' physical, emotional and spiritual needs. The team may include:
Medical directors and a nurse practitioner who monitor care plans and consult with a patient's existing physician.
Registered nurses and hospice aides skilled in providing medical and personal care.
Social workers, grief counselors and a chaplain who help families celebrate life and prepare to say farewell.
Trained volunteers who visit, read, play games and reminisce with patients and families
Admission
Our hospice centers are reserved for patients who qualify for a more intensive level of care. Admission is based on greatest need. Room and board fees are based on ability to pay. An admissions counselor is available to discuss options that match a patient's financial resources. No one is ever turned away if they are unable to pay.
Visitors
At this time, visitation is limited due to COVID-19. Specific visitation hours and policies are shared with patients and their loved ones upon admission. You can view our latest visitor policy here:
The Barnette Center
255 Comet Drive, Centreville, Maryland
This newly renovated ten-bed facility's location makes it central to all residents residing in Queen Anne's County. Since opening its doors in 2008 The Barnette Center has provided comfort and care to a countless number of patients. In addition to patient rooms, this center houses a dining room, a living room, a chapel, and a gazebo and patio that overlooks a serenity garden.

The Barnette Center is licensed and staffed for both General Inpatient Care, as well as residential levels of care.