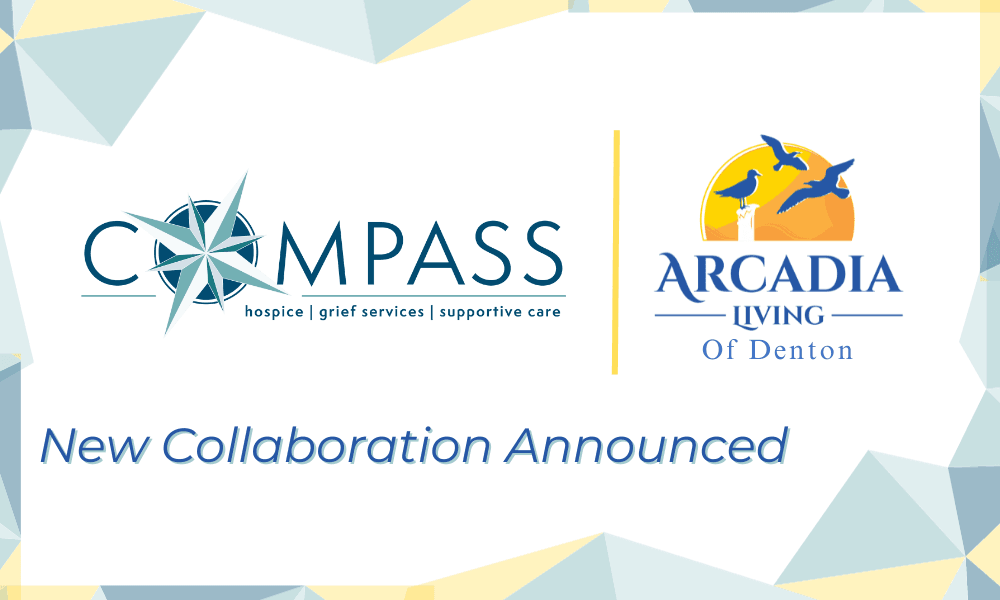 DENTON—Compass Hospice and Arcadia Assisted Living Facility of Denton are proud to announce a new collaboration as of August 1st, that aims to provide Caroline county residents with the option to receive residential hospice care close to home. Compass will have private rooms available for hospice patients wishing to remain in Caroline County to receive their care at Arcadia Assisted Living Facility of Denton. Compass' 10 bed Barnette Hospice Center in Centreville is also available for any community member looking to receive residential hospice care. This collaborative initiative underscores the organizations' shared commitment to improving the accessibility and quality of end-of-life care for the community.
Recognizing the growing need for compassionate and specialized care for individuals facing end-of-life journeys, Compass and Arcadia Assisted Living Facility of Denton have joined forces to provide a comforting and dignified setting for hospice patients within Caroline County. Patients and their families will have access to private rooms within the facility, ensuring comfort and dignity during this sensitive time. Compass, known for its expertise in hospice care, will provide a dedicated team of experienced healthcare professionals to work collaboratively with Arcadia's staff. A large percentage of hospice care patients choose to remain in the comfort of their own home to receive care. For others, this collaboration can help to enhance the quality of life for individuals needing residential hospice care and wanting to stay in Caroline County.
Heather Guerieri, CEO at Compass, expressed enthusiasm for the collaboration, stating, "Our goal is to make high-quality hospice care accessible to as many Caroline county residents as possible. By working with Arcadia Assisted Living Facility of Denton, we can provide a comforting and supportive environment for individuals and their families wishing to stay close to home to receive care."
The collaboration between Compass and Arcadia Assisted Living Facility of Denton signifies their shared vision of bringing hospice care closer to home for those needing residential care, making it easier for county residents to access the support and comfort they deserve during life's most challenging moments.
Compass
Since 1985, Compass has been allowing patients to spend their final months the way they choose, guiding loved ones after a life-limiting diagnosis, and showing individuals healthy ways to manage their grief. Today, the organization is a regional provider of hospice care, supportive care, and grief services in Caroline, Kent, and Queen Anne's counties. Whether serving their patients in private residences, skilled nursing facilities, or Compass' residential center in Centreville, staff and volunteers are guided by their mission to ensure that individuals facing end of life can live out their days in a full and meaningful way.
Compass is a fully licensed, independent, community-based nonprofit organization certified by Medicare and the state of Maryland and accredited by the Joint Commission. It is affiliated with the National Hospice and Palliative Care Organization and the Hospice & Palliative Care Network of Maryland. For more information about Compass, call 443-262-4100 or visit compassregionalhospice.org.