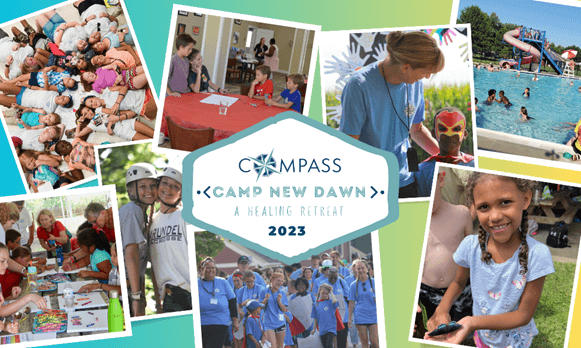 CENTREVILLE —Registration is open for the 29th annual Camp New Dawn, a grief retreat summer camp offered through Compass. Camp New Dawn is a four-day, three-night retreat held each summer at Camp Pecometh in Centreville. Camp New Dawn is a grief retreat hosted by Compass for children, teens and families who are struggling with the loss of a loved one. Campers learn healthy coping skills that will benefit them throughout their lives. They engage in group discussions and activities with other kids who have experienced loss and interact with professional grief counselors.
"Grief is isolating in itself on a very natural level. When they show up here they're all of a sudden in this amazing community of people who are on a similar walk." says Camp New Dawn Director Rhonda Knotts. "Some of the most important things we do as a team is we validate every single feeling they have- good, ugly, bad, hard. We normalize, because grief can make you feel like you're losing your mind and just like you don't belong anywhere. The most important thing is we encourage them to remember that they actually have exactly what they need to survive this loss within themselves. When we all come together we remind each other we're all survivors."
This year's Camp New Dawn kicks off on Saturday, August 12 at 12:30 pm, when campers arrive at Camp Pecometh. The campers attend therapeutic workshops, age specific grief support groups and may participate in supervised camp activities such as swimming, fishing, and arts and crafts. The retreat for campers wraps up after the closing ceremony on Monday, August 14 at 4:30 pm.
Camp New Dawn also includes an overnight adult and family retreat that begins on Monday, August 14 at 4:00 pm. While their campers are busy learning how to cope with their grief, parents and guardians are invited to attend the adult retreat designed to help restore participants to a place of wholeness as they learn to navigate their own grief journey. The family portion of Camp New Dawn provides the adults 24 hours of respite before their children join them on Tuesday, August 15. This is also an opportunity for them to explore where they are in their grief. While the children do great work at camp it is important for them to work on grief together as a family. Our hope is they would have some great tools to take back home to continue to process their grief and heal as a family.
Camp New Dawn would not be possible without the support of our specially trained volunteers. Over 100 volunteers help to ensure that the weekend encompasses fun, friendship and learning. The most visible volunteers are Buddies— caring and compassionate adults who are paired up with campers to provide support. There are also support staff volunteers who tend to every detail of camp by helping plan, set up and facilitate activities. Former campers, PALS and Campatiers, can be found helping in an assortment of ways around camp and sharing their own personal camp experiences with new campers.
The cost of Camp New Dawn is $60 per camper and $100 per family. These fees represent a small fraction of the actual cost of operating Camp New Dawn. No one is ever turned away due to inability to pay. To offer your financial support toward the cost of camp or to sponsor a child to attend, contact Shelly Baird, Development Director, Compass, 443-262-4106, sbaird@compassregionalhospice.org.
For more information, to register, or become a volunteer for Camp New Dawn, contact Rhonda Knotts, Camp New Dawn director, Compass, 443-262-4109, rknotts@compassregionalhospice.org. Applications can also be downloaded from Compass' website https://compassregionalhospice.org/what-we-do/camp-new-dawn.html